Nevada Unemployment Newsletter
In partnership with the Department of Employment, Training and Rehabilitation (DETR), the Governor's Office will now send weekly updates with information and news regarding unemployment insurance benefits in Nevada. We appreciate your patience as we navigate through these unprecedented times, and I want you to know that we are working around the clock to ensure Nevadans are receiving the assistance and information they need.
Announcements
Federal Pandemic Unemployment Compensation (FPUC): DETR is excited to announce disbursement of the $600 FPUC benefit to all eligible claimants has now started. You can expect to see your additional weekly $600 payment deposited to your account in the coming days.
On April 15, DETR opened a new Unemployment Insurance (UI) call center to help assist claimants with general questions related to the unemployment insurance filing process. the call center will answer a newly established toll-free hotline: (800) 603-9671. Operation hours will mirror the state's current expanded UI call center hours of Monday through Friday, 8 a.m. to 8 p.m.
Governor Sisolak has directed DETR to backdate all unemployment claims for Traditional Unemployment Insurance to the earliest date of eligibility, up to March 15, 2020. Please note, per federal regulations the earliest date to receive FPUC is March 29, 2020. Once established, Pandemic Unemployment Assistance claims can be backdated to the earliest date of eligibility, up to January 27, 2020.
Beginning Sunday, April 19, DETR is now asking claimants to file their weekly claims according to the first letter of their last name. Please see the graphic below for more information on what day you are encouraged to file.
Note: Following this new methodology is important to provide faster results for Nevadans seeking to gain access to their unemployment benefits.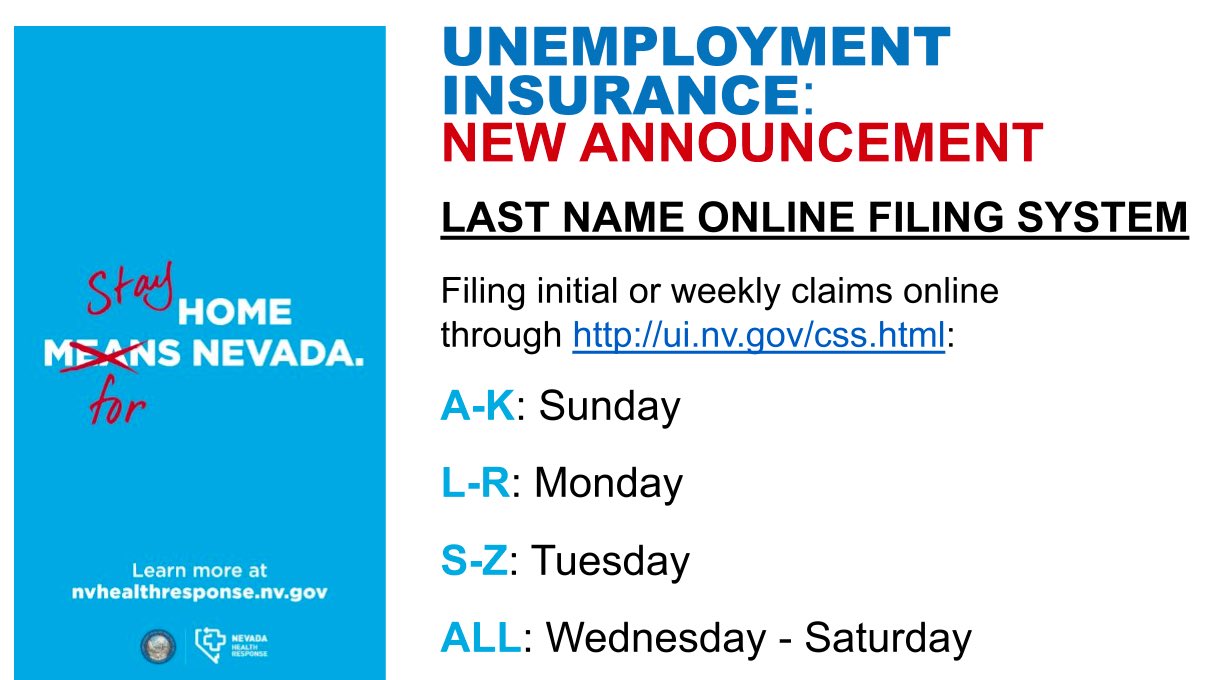 http://ui.nv.gov/home.htm
Northern Nevada: (775) 684-0350
Southern Nevada: (702) 486-0350
Rural Nevada & Out-of-State: (888) 890-8211
Copied from the Governor Sisolak Newsletter